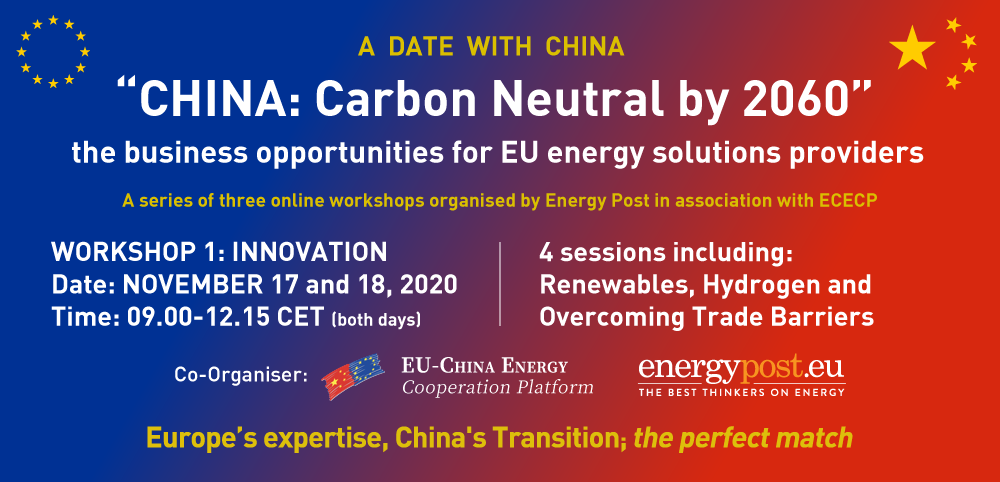 A series of three workshops organised in conjunction with EnergyPost.eu
Session One: Optimising the Innovation Eco-system

What does the prospect of China becoming carbon neutral by 2060 mean? For the world and to innovative energy solutions providers from the EU. Where is innovation required, do you have the experience and expertise to provide it, what are the challenges from your point of view?"
Pannellists for Session One
Interview: Cristina Lobillo Borrero, Director of Energy Policy, DG ENER

Dolf Gielen, Director, IRENA

Charlotte Roule, CEO, ENGIE CHINA

Patrick Child, Deputy Director General, DG RTD

Matthew James (Moderator), Managing Director, ENERGY POST
Session Two: Wind and Renewable Power 

Wind and Solar are the engine of China's power generation revolution with huge capacities installed and more and more required. High quality, innovative, affordable equipment is in demand and further, integration is a real challenge in terms of smart grids and market design. What are your concerns as a prospective service provider or investor?
Pannellists for Session 2
Interview: Paula Abreu-Marques, Head of Unit Renewables and CCS, DG ENER

Lisa Ryan (Moderator), Assistant Professor Energy Economics, UNIVERSITY COLLEGE DUBLIN

Kaare Sandholt, Chief Expert, CHINA NATIONAL RENEWABLE ENERGY CENTRE

Jan Steinkohl, Policy Officer, Renewables, DG ENER

Hubert Beaumont, CEO, AZURE INTERNATIONAL

LIU Weiqing, Director, ARKEMA Changsu R&D Centre
"China is the largest hydrogen producer in the world, and production, storage, distribution and end use of hydrogen is expected to grow at an exponential rate. The share of hydrogen in Europe's energy mix is also projected to grow, and a European Clean Hydrogen Alliance, representing over 100 European companies, has been launched to facilitate a robust investment agenda. Our interactive panel will explore the business opportunities for cutting edge actors from Europe in investing throughout the hydrogen supply chain in China" Gokce Mete, moderator, SEI
Panellists for Session 3
Gokce Mete (Moderator)Research Fellow, Industry Transition, SEI (Stockholm ,  Institute)

Mickael Naouri, Corporate Affairs Director, AIR LIQUIDE, (Shanghai Chair, European Union Chamber of Commerce, Energy Working Group)

Joachim von Scheele, Global Director Commercialisation, LINDE PLC

Tudor Constantinescu, Principle Advisor to the Director General, DG ENER
Session Four: Overcoming Trade Barriers 

The final session will dig deep into the issue of "barriers" to market entry. With expertise on hand to clarify how China has modified conditions, you can appraise yourself of the information you need to help you assess investment prospects. Regulatory frameworks, transparency, payment terms, level playing field, data and IP/patent issues – you should have a better understanding of the risk profiles through this workshop.
Panellists for Session 4
Adrian Palmer (Moderator), Director, BARINGA PARTNERS

Guido D. Giacconi, Chairman, Energy Working Group, EU CHAMBER of COMMERCE, CHINA

Thomas Keller, President, VESTAS CHINA

Dr. Maurizio Bragagni, CEO, TRATOS GROUP

Adeline Hinderer, Head of Unit, DG TRADE