CHINA: Carbon Neutral by 2060
the business opportunities for EU energy solutions providers
A series of three online workshops jointly organised by ECECP and EnergyPost.eu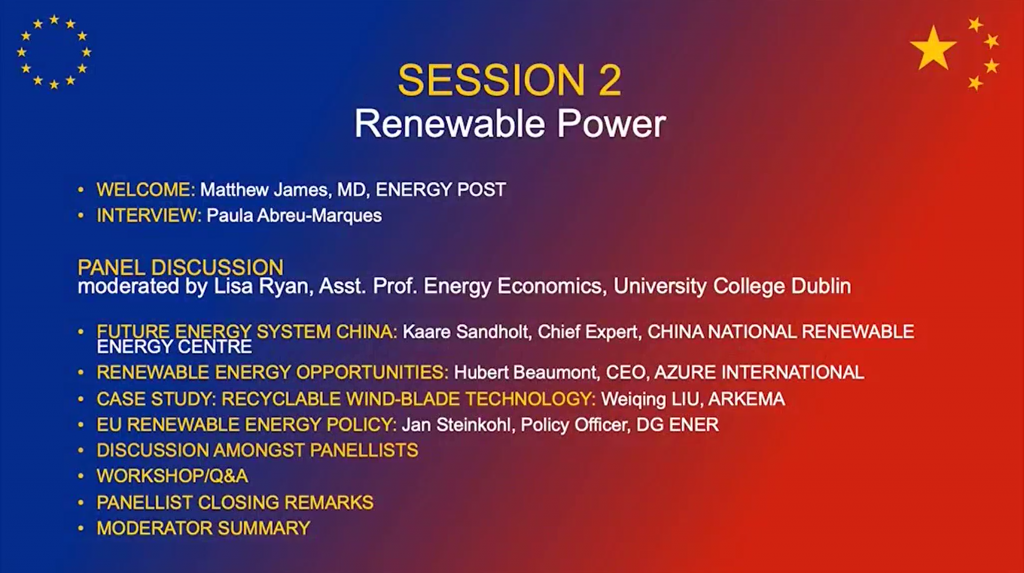 Session Two: Wind and Renewable Power 10:45 to12:15
10:45 to12:15 (CET) Tuesday 17 November 2020
---
Wind and Solar are the engine of China's power generation revolution with huge capacities installed and more and more required. High quality, innovative, affordable equipment is in demand and further, integration is a real challenge in terms of smart grids and market design. What are your concerns as a prospective service provider or investor?

Interview: Paula Abreu-Marques, Head of Unit Renewables and CCS, DG ENER
Mrs Abreu Marques heads the Commission's work in renewable energy policy and has recently coordinated the preparation of the 2020 Energy System Integration and the Hydrogen Strategies. Previously, she was heading the Unit responsible for "International Energy Relations and Enlargement". She graduated in economics at the Nova School of Business and Economics, Lisbon, and has a master in European economics by the College of Europe in Bruges, Belgium

Dolf Gielen
Director, IRENA Innovation and Technology Centre (IITC)
Dolf Gielen is IRENA Director for Innovation and Technology since 2011. He has more than 25 years of experience with energy transition strategy development and implementation as well as technology policy in an international context. He has a PhD from Delft University of Technology in Delft, The Netherland.

Lisa Ryan (Moderator)
Assistant Professor Energy Economics, UNIVERSITY COLLEGE DUBLIN
Lisa is an assistant professor in energy economics in UCD School of Economics and the Energy Institute. She is also a Board Member of the Sustainable Energy Authority of Ireland. Previously, she was the senior energy economist in the Energy Efficiency Unit at the International Energy Agency (IEA) in Paris

Kaare Sandholt
Chief Expert, CHINA NATIONAL RENEWABLE ENERGY CENTRE
Chief Expert at the energy policy think tank China National Renewable Energy Centre within Energy Research Institute (ERI)under NDRC. International coordinator of the ERI "Boosting RE in China" program and co-editor of China Renewable Energy Outlook, the annual publication from CNREC with comprehensive energy system scenarios for the Chinese energy system. Worked with integration of renewable energy in China since 2009

Jan Steinkohl
Policy Officer, Renewables, DG ENER
Jan Steinkohl works as a policy officer in directorate general for energy of the European Commission. In the unit responsible for renewable energy and CCS policy, he was among other things part of the team that worked on the recast of the renewable energy directive

Hubert Beaumont
CEO, AZURE INTERNATIONAL
Hubert has 15+ years of professional experience in the cleantech sector in China, establishing partnerships, building teams, leading business development, due diligences and sourcing projects between Asia, the EU and the US. Currently CEO of Azure International, a boutique advisory and investment firm with its main office in Beijing, Hubert leads a team of analysts and engineers in supporting western investors and technology providers entering the Chinese clean energy markets。

LIU Weiqing
Director, ARKEMA Changsu R&D Centre
Joined Arkema in 2012 with a masters degree in polymer from ESPCI and Ph.D in material science and engineering in CEMEF of MINES Paristech. Since then occupied various positions in new product development and product stewardship. He started leading Changshu R&D center in 2020.