CHINA: Carbon Neutral by 2060
the business opportunities for EU energy solutions providers
A series of three online workshops jointly organised by ECECP and EnergyPost.eu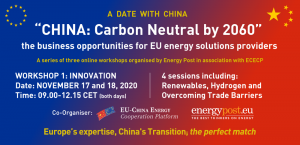 "What does the prospect of China becoming carbon neutral by 2060 mean? For the world and to innovative energy solutions providers from the EU. Where is innovation required, do you have the experience and expertise to provide it, what are the challenges from your point of view?"
Session 1: Optimising the innovation eco-system; Session 2: Wind power; Session 3: Hydrogen; Session 4:  Barriers, levelling the playing field for International businesses in China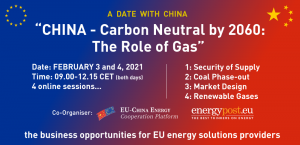 Demand in China is expected to keep growing. That's because China doesn't just need to replace coal, it simply needs more energy. Europe's gas sector has decades of relevant experience, technology, policy, planning and business skills to offer China.
Session 1: Security of Supply; Session 2: Gas for Power (coal phase-out); Session 3: Competitive Markets; Session 4:Renewable Gases.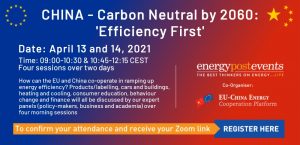 Workshop 3: Efficiency First
How can Energy Efficiency measures contribute to decarbonisation efforts both in the EU and in China. What are the opportunities, what should be the approach and how can we collaborate? 
Session 1:  The Big Opportunities; Session 2: Buildings; Session 3: Heating and Cooling; Session 4: Next Generation System Efficiency