CHINA: Carbon Neutral by 2060
the business opportunities for EU energy solutions providers
A series of three online workshops jointly organised by ECECP and EnergyPost.eu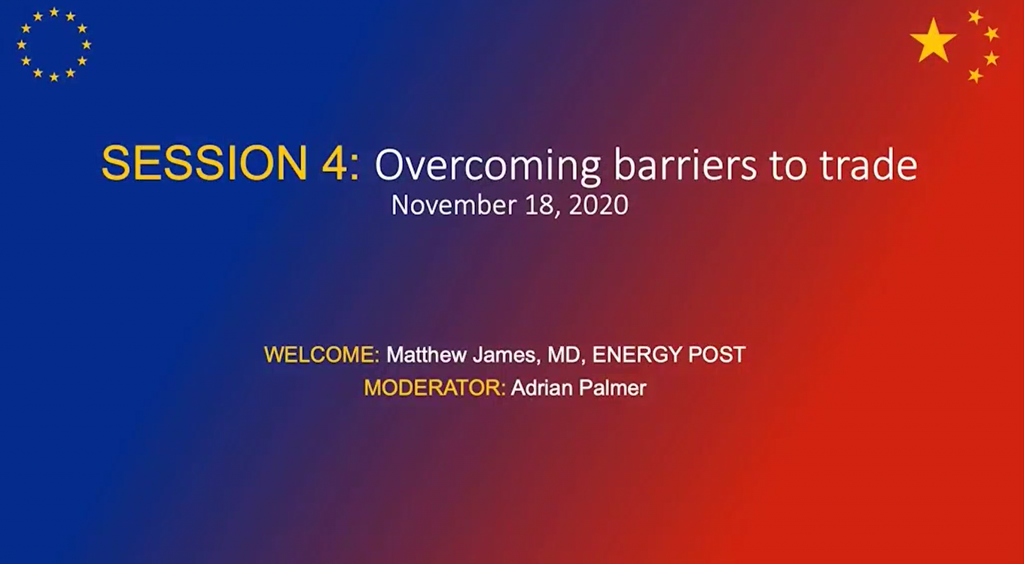 Session Four: Overcoming Trade Barriers
10:45 to 12:15 (CET) Wednesday 18 November 2020
---
The final session will dig deep into the issue of "barriers" to market entry. With expertise on hand to clarify how China has modified conditions, you can appraise yourself of the information you need to help you assess investment prospects. Regulatory frameworks, transparency, payment terms, level playing field, data and IP/patent issues – you should have a better understanding of the risk profiles through this workshop.

Adrian Palmer (Moderator)
Director, BARINGA PARTNERS
Adrian has over 25 years' experience in the energy sector, advising on regulation and policy, market analysis, and trading and risk management. He recently commenced a project to develop policy recommendations for the Jiangsu regional power market, under the UK government's China Energy and Low Carbon Economy Programme

Guido D. Giacconi
Chairman, Energy Working Group, EU CHAMBER of COMMERCE, CHINA
Co-Founder and Chairman at In3act Business Strategy Advisors, National Chair European Union Chamber of Commerce in China since 2017, former Vice Chairman of the China-Italy Chamber of Commerce. In China since 2006, expert of business strategies across multiple industries, advisor to international and Chinese MNCs and Governments

Thomas Keller
President, VESTAS CHINA
Thomas Keller joined Vestas Wind Systems A/S in February 2014, and served as Senior Vice President Group Risk & Compliance for 4 years. From 2018, he served as Chief Financial Officer of Vestas China until July 2019 when he started as President of Vestas China. Prior to joining Vestas, Thomas Keller built his career at KPMG, Ernst & Young and Danfoss A/S. Thomas Keller holds a Master's degree in Law from University of Copenhagen. Thomas Keller is a Danish national but is currently living in Beijing

Dr. Maurizio Bragagni
CEO, TRATOS GROUP
Dr Maurizio Bragagni is CEO of Tratos Ltd, the manufacturing division of global cable maker Tratos Group. Tratos is an innovative international cable producer with factories in the UK and Italy, offices in five continents and customers worldwide, servicing the power, transport, shipping, communications and oil and gas industries. With turnover in excess of €350 million, it is one of the world's largest independent cable manufacturers and is involved in many high-profile and technologically- advanced projects across the globe.

Adeline Hinderer
Head of Unit, DG TRADE
Adeline Hinderer leads the team in charge of trade relations with China, Japan, Korea, Taiwan, Hong Kong, Macao, and Mongolia. The role includes implementing the trade agreements with Japan and Korea, setting priorities, managing high level economic dialogues and generally overseeing all aspects of trade policy with the region