CHINA: Carbon Neutral by 2060
the business opportunities for EU energy solutions providers
WORKSHOP 5: The Future of Gas 2022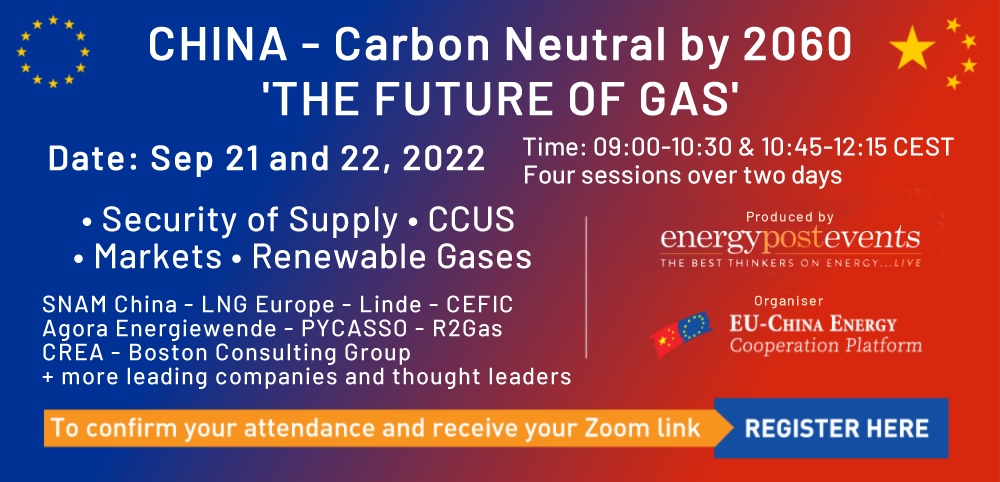 The decarbonisation of the gas sector through CCUS, functioning markets and the growth of renewable gases is a fascinating challenge and made even more pressing under the world's current supply issues. The issue of security of supply will be discussed in session one also.
Andrea Stegher, Vice-President of the International Gas Union talked with Energy Post, about how the EU can emerge stronger from the current crisis and to get his views on the future of gas going forward. 
Summary of the workshop sessions, presentations and videos can be found in the pages below.
All videos are subtitled to facilitate communication.
Energy Post Interview: Andrea Stegher, Vice-President, International Gas Union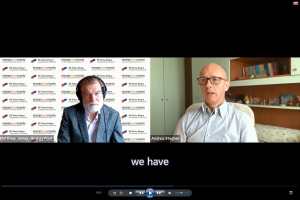 (with English subtitles)
DAY ONE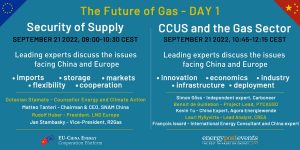 Session One: Security of Supply 
Octavian Stamate – Counsellor, 

Energy

 and Climate Action,  EU Delegation to China

Matteo Tanteri – Chairman and CEO, SNAM CHINA

Rudolf Huber – President, LNG EUROPE

Jan Stambasky – Vice-President, R2GAS

Matthew James – 

ENERGY

 

POST

 – Moderator
Simon Göß – Independent expert, CARBONEER

Benoit de Guillebon, Project Lead PYCASSO

Kevin Tu, China Expert, AGORA ENERGIEWENDE

Lauri Myllyvirta, Lead Analyst, CENTRE for RESEARCH on 

ENERGY

 & CLEAN AIR
François Issard – International 

Energy

 Consultant and China Expert – MODERATOR
DAY TWO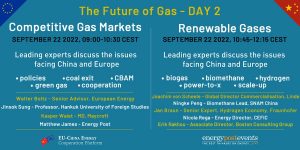 Session Three: Competitive Gas Markets 
Walter Boltz – Senior Advisor European 

Energy

 – WALTER BOLTZ CONSULTING

Dr. Jinsok Sung – Expert, Asian Gas and LNG Market and research professor, Hankuk University of Foreign Studies

Kasper Walet – Managing Director, Maycroft

Matthew James – 

ENERGY

 

POST

 – Moderator
Joachim von Scheele – Global Director Commercialisation, LINDE

Ning-ke Peng – Biomethane Lead – SNAM CHINA

Jan Braun – Senior Expert Hydrogen Economy (MENA Region) at Fraunhofer

Nicola Rega – 

Energy

 Director, CEFIC (European Chemical Industry Council)

Moderator: Erik Rakhou, Associate Director, Boston Consulting Group