Background: China's 14th Five-Year Plan (2021-2025) and climate goals bring additional focus on clean energy technology innovation
In the last 20 years, China has strengthened its position on the global stage as an energy innovator, as illustrated by the stories of solar power and, more recently, electric mobility. This is the result of several decades of increasing policy focus on technology innovation, which underpin China's ambitions to become a producer of knowledge and foster innovation-driven socio‑economic development. Looking forward, clean energy innovation will play a crucial role to achieve China's objectives of carbon peaking before 2030 and neutrality before 2060, and ranks among core government priorities for the 14th Five-Year Plan period (2021‑2025).
In September 2021, the IEA published An energy sector roadmap to carbon neutrality in China, which suggests a path forward for China to achieve carbon peaking and neutrality ambitions. In March 2022, this analysis was complemented by an innovation-specific report, Tracking Clean Energy Innovation – Focus on China. It maps the institutional and policy landscape of clean energy innovation in China and shows trends for selected metrics to track and explain progress of technology development. Both reports benefited from inputs and reviews from Chinese experts, academics and government officials.
This event, co-organised by the IEA and the ECECP, presented the main findings of the IEA report on clean energy innovation in China, and discussed with experts from government, academia and business about the policy and technology priorities and opportunities in the 14th Five-Year Plan period (2021-2025).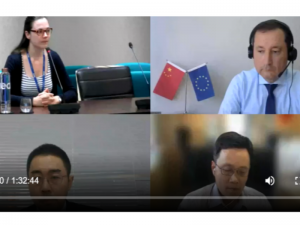 Workshop Video (English audio)
Summary of Workshop (PDF – 1.37 MB)
  
Workshop: Clean energy innovation in China: the road ahead
Policy and technology developments in the 14th Five-Year Plan

Agenda
Date/Time
 
09.30-09.45 (Paris)
15.30-15.45 (Beijing)
Welcome & Opening remarks

Octavian Stamate, Counsellor for Climate Action and Energy, EU Delegation

Fang Xiaosong, Director of International Affairs Department, Electric Power Planning and Engineering Institute

Timur Gül, Head of Energy Technology Policy, International Energy Agency

09.45-10.00 (Paris)
15.45-16.00 (Beijing)
Presentation of IEA report • Tracking Clean Energy Innovation – Focus on China

Jean-Baptiste Le Marois (Energy Technology and Innovation Analyst, IEA, lead author of the report)

10.00-10.50 (Paris)
16.00-16.50 (Beijing)
Roundtable: The road ahead for China's clean energy innovation

Moderator: Joachim von Scheele, Global Director Commercialization, Linde

Gao Hu, Director General, Energy Economics and Development Strategy Center, NDRC Energy Research Institute

Mr Zhang Xian, Director of Social Affairs, ACCA21

Wang Mo, Associate Researcher, Institute of Strategic Planning, China National Nuclear Corporation

Liu Yi, Deputy Dean, Sichuan Energy Internet Research Institute, Tsinghua University

Mats Harborn, President, Scania China Group

Key themes for discussion

One year after the beginning of the 14th Five-Year Plan period, what can we say about China's key technology and innovation priorities? In which sectors do we see new R&D and demonstration projects and an acceleration of innovation?

What learnings for the road ahead can we draw from China's innovation story in the last 20 years, such as for solar PV, electric mobility and batteries?

In which sectors and technology areas do we see pressing technology and innovation challenges to meet carbon peaking and neutrality goals in time?

Where do we see opportunities for EU stakeholders, and for further collaboration between the EU and China?

How to ensure an enabling policy environment for innovative energy technologies in the EU and China, including the support for start-ups and small and medium-sized enterprises (SMEs)?

Open exchange and Q&A from audience in the chat

10.50-11.00 (Paris)
16.50-17.00 (Beijing)
Closing