CHINA: Carbon Neutral by 2060
the business opportunities for EU energy solutions providers
A series of three online workshops jointly organised by ECECP and EnergyPost.eu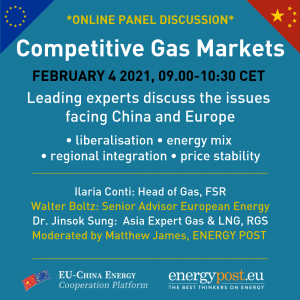 Session Three: Competitive Markets
09:30 to 10:30 (CET) Wednesday 4 February 2021
---
How to establish a liberalised, transparent gas market. Where do we stand in China and Europe and what should the roadmap look like?

Ilaria Conti
Head of Gas, FLORENCE SCHOOL of REGULATION
Ilaria has 15 years' experience in EU energy policy and regulation, 9 years in Brussels working with EU stakeholders and the past 6 years at the EUI. She is currently Head of the gas area at FSR, where she coordinates research, policy debate activities and courses. Ilaria also authored or co-authored publications on gas market design and decarbonisation.

Walter Boltz
Senior Advisor European Energy, Walter Boltz Consulting
Walter is a Senior Advisor for European Energy issues, member of the ACER Board of Appeal, the ERRA Strategic Advisory Council as well as of the EPRI Advisory Council. He has extensive experience in all aspects of electricity & gas markets as well as in the area of regulation of the energy sector. Walter was the Chairman of the Supervisory Board of JSC MGU, the owner of the Ukrainian Gas TSO, GTSOU LLC, and implemented the unbundling between 2018 and May 2020.

Dr. Jinsok Sung
Expert, Asian Gas and LNG Market, RUSSIAN GAS SOCIETY
Jinsok Sung is an energy market researcher and energy economist. His research focuses on global LNG and Asia Pacific gas market and published over 40 papers on energy market issues. He defended Ph.D. at Gubkin University of Oil and Gas in Moscow and was a visiting researcher at Bank of Finland Institute for Emerging Economies (BOFIT).

Matthew James – Moderator
Managing Director, ENERGY POST
Matthew has been working in energy communications for the past 11 years, first as Managing Director of Synergy, the organisers of European Utility Week and then, since 2014, at Energy Post. Energy Post is read by over 50,000 energy professionals every month. It is technology neutral, offering a platform to experts from all sectors particpating in the Energy Transition.

Oliver Koch
Acting Head of Unit, Internal Markets DG ENER
From 2012, Oliver was the Deputy Head of Unit in the Internal Market Unit of the Commission's Energy Directorate-General. His team is responsible for the creation of the regulatory framework for an integrated EU electricity and gas market. Before joining DG Energy, Oliver worked in DG Competition in the field of energy antitrust (2007 – 2012) and merger control (2003 – 2007), where he has dealt with antitrust and merger cases in the field of energy and other sectors and was involved in several policy projects concerning energy and competition law. Prior to joining the Commission, he worked as a lawyer in private practice (White & Case, Hamburg/Brussels, Freshfields/Düsseldorf) and as an assistant lecturer (University of Göttingen). He publishes regularly on energy and competition policy.