CHINA: Carbon Neutral by 2060
the business opportunities for EU energy solutions providers
A series of three online workshops jointly organised by ECECP and EnergyPost.eu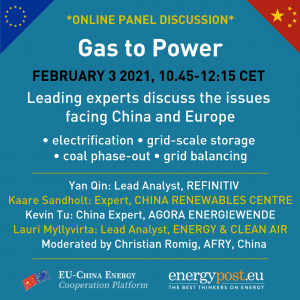 Session Two: Gas for Power?
10:45 to 12:15 (CET) Tuesday 3 February 2021
---
With issues facing nuclear and the projected (EU) phase-out of coal, the door is open for gas to act as partner for variable renewables. Grid balancing, decarbonisation, grid-scale storage, CCUS. Is gas the solution? What are the options and best path forward to meet increased demand and mass electrification in a carbon neutral world?

Yan Qin
Lead Analyst, REFINITIV
Yan Qin is lead power and carbon analyst at Refinitiv in Norway. She has extensive experiences in energy market analysis, covering Europe and China. Her work focus on short-term trading outlook, supply-demand forecast and energy policy insights, and frequently speaks to energy and climate media. Author "Natural Gas in China's Power Sector" for OIES

Christian Romig – Moderator
Head of Management Consulting, China, AFRY
Christian comes from a background in renewable energy project development, energy policy and regulation. He leads AFRY Management Consulting's China energy practice covering national and provincial energy markets across strategy, market analysis, market design and transaction services.

Kaare Sandholt
Chief Expert, CHINA NATIONAL RENEWABLE ENERGY CENTRE
Chief Expert at the energy policy think tank China National Renewable Energy Centre within Energy Research Institute (ERI)under NDRC. International coordinator of the ERI "Boosting RE in China" program and co-editor of China Renewable Energy Outlook, the annual publication from CNREC with comprehensive energy system scenarios for the Chinese energy system. Worked with integration of renewable energy in China since 2009

Kevin Tu
China Expert, AGORA ENERGIEWENDE
Kevin Tu is a senior advisor at Agora Energiewende, where he leads Agora's work on China's energy and climate policies. He is also an adjunct professor at the School of Environment of Beijing Normal University, and a non-resident fellow at the Center on Global Energy Policy of Columbia University and Institut français des relations internationals (Ifri).

Lauri Myllyvirta
Lead Analyst, CENTRE for RESEARCH on ENERGY & CLEAN AIR
Lauri has over 10 years experience as an air pollution and climate expert. He has led numerous research projects on air pollution, assessing air quality and health impacts of energy policies, including more than a dozen modeling studies of the air quality and health impacts of coal-fired power plants. This research has been published and utilized in numerous countries in East Asia, Southeast Asia, South Asia, Europe, Turkey, South Africa and others. Lauri has also contributed to numerous publications around energy solutions and air pollution and is asked frequently to attend seminars and conferences as an expert speaker.