CHINA: Carbon Neutral by 2060
the business opportunities for EU energy solutions providers
A series of three online workshops jointly organised by ECECP and EnergyPost.eu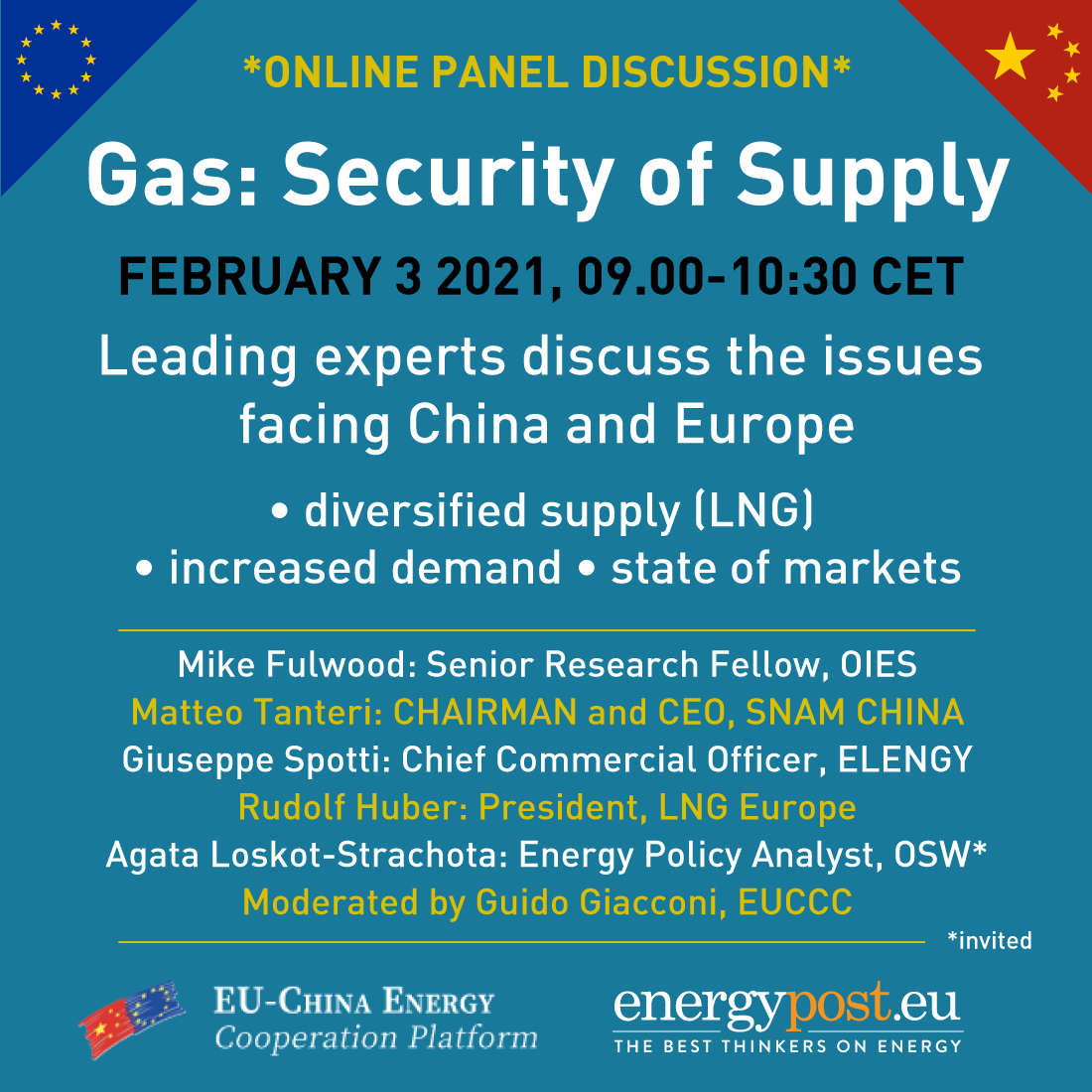 Session One: Security of Supply
09:00 to 10:30 (CET) Tuesday 3 February 2021
---
Opening session to compare the issues facing China and Europe regarding gas security of supply. Where do the similarities begin and end? In particular, how can LNG and pipeline supplies combine to help?

Guido D. Giacconi – Moderator
Chairman, Energy Working Group, EU CHAMBER of COMMERCE, CHINA
Co-Founder and Chairman at In3act Business Strategy Advisors, National Chair European Union Chamber of Commerce in China since 2017, former Vice Chairman of the China-Italy Chamber of Commerce. In China since 2006, expert of business strategies across multiple industries, advisor to international and Chinese MNCs and Governments

Mike Fulwood
Senior Research Fellow, OIES
Presentation: "Comparisons: Gas Security of Supply – China and Europe" Mike Fulwood joined the OIES in October 2017. Mike has over 35 years of experience in the gas industry. Before joining the OIES, Mike worked as a consultant, with Energy Markets between 1997 and 2008 and then with Nexant as Director, Global Gas & LNG. While working as a consultant Mike undertook a wide range of projects in all areas of the gas chain, covering regulatory matters, gas pricing and tariffs, gas sales and transportation contracts, market studies and price forecasting, as well as helping develop Nexant's World Gas Model.

Matteo Tanteri
CHAIRMAN and CEO, SNAM CHINA
Mr. Matteo Tanteri is CEO of Snam China. He is also VP of Italian Chamber of Commerce in China and member of the advisory council of EU Chamber of Commerce in China (and VP of the Energy WG). After a long career in consulting, he joined Snam in 2014 supporting the start-up of BD initiatives that are shaping the strategic development of Snam. In 2016 he has been the first Office of the CEO of Snam (for Mr. Alverà). In 2017 he has been named Senior Vice President, in charge of international assets.

Rudolf Huber
President, LNG Europe
Rudolf is an ex-lawyer turned energy manager, expert and advocate. He has founded several clean energy advocacy initiatives of which he presides two, LNG Austria and LNG Europe. Until 2011 Rudolf spearheaded the LNG efforts of EconGas. His input significantly influenced the GATE terminal project. He also runs his own consulting company.

Giuseppe Spotti
Chief Commercial Officer, ELENGY
Giuseppe has over 30 years' experience in the energy sector from E&P production to gas and LNG portfolio management. During his career Giuseppe covered various positions, including Senior VP LNG Contract Managements and Director Gas Supplies Southern Europe. He has been appointed Chief Commercial Officer for Elengy in September 2018.